Sacraments
Sacrament of Reconciliation and the Eucharist
Preparing the children to receive the Sacraments of Reconciliation and First Holy Communion is the joint responsibility of all members of staff and Father Simon our parish priest. We have very strong links with our parish community and photographs of the children are displayed in Church throughout the year so that parish members know who they are praying for.
The programme begins in the spring term with a workshop for all Year 3 parents. This workshop is led by the RE leader and is an opportunity to reflect on the Sacrament of Reconciliation, what it means and what it entails. The children will then make their First Confession during the season of Lent. At the end of the spring term the children will then be presented with their certificates to mark receiving the Sacrament of Reconciliation.
The preparation for receiving Holy Communion has many facets, lessons in class, school Masses and parental workshops all enable the children to get ready for their First Holy Communion.
The day of Holy Communion is the most important day in the school year. A day when the whole school comes together to celebrate receiving Jesus for the first time. The children will later be presented with their certificates towards the end of the school year when they can be congratulated on making their First Confession and First Holy Communion.
"Now as they were eating, Jesus took bread, and blessed, and broke it, and gave it to the disciples and said, 'Take, eat; this is my body.' And he took a cup, and when he had given thanks he gave it to them, saying, 'Drink of it, all of you; for this is my blood of the covenant, which is poured out for many for the forgiveness of sins.'" (Mt. 26:26-28)
| | | |
| --- | --- | --- |
| 3A FHC group. | | 3T FHC group. |
Sacrament of Confirmation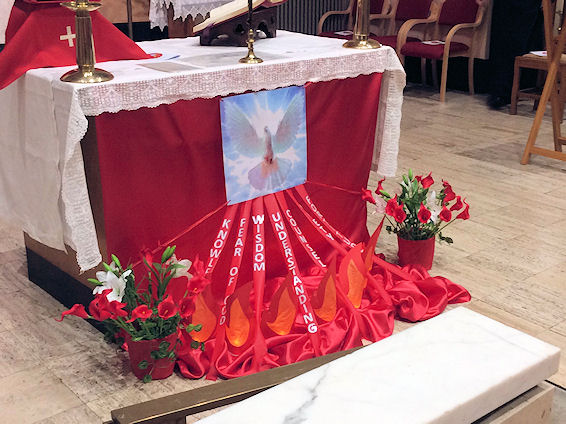 The Confirmandi.
During their final year at St. Margaret Mary's the Year 6 children are prepared to receive the Sacrament of Confirmation.
The children are prepared following a school based programme with weekly lessons recommended to us by the Archdiocese in the Learning and Growing scheme of work. This programme looks at all different aspects of the Sacrament, the symbols of Confirmation and what they mean, its links with other Sacraments and what it now means to become grown up members of the church.
The autumn term sees the children receive a visit from the Bishop in school, when he will meet them and ask questions of them making sure that they are ready and prepared. The evening itself is a great celebration with the whole school family coming together to mark the Confirmation of our Year 6 children.