Our Saints
Saint Margaret Mary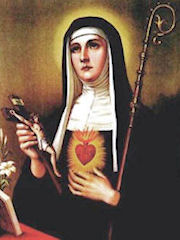 1647 to 1690
Saint Margaret Mary Alacoque lived a simple life, a life dedicated to God.
She was a nun in Paray-Le-Monial in France. It was here that she had visions, these visions told her to spread the devotion to the Sacred Heart of Jesus. To this end, Saint Margaret Mary helped begin the feast day to the Sacred Heart we know today.
She was a humble person, a prayerful person and a person who dedicated her life to serving God.
As a school community we celebrate her feast day in October each year and continually follow her example as we strive to live, love and learn in the light and example of Christ.
EYFS - Saint Francis of Assisi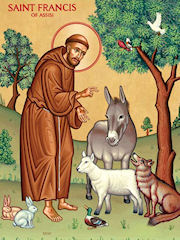 As a young man, Francis liked to have a good time. His father was rich. But once, when he was sick, Francis heard our Lord calling him to leave the world and follow Him. Francis began to visit the hospitals and to serve the sick. He used to say, "When one serves the poor, he serves Christ Himself."
Francis put on the clothes of a poor shepherd and began to preach to the people about peace with God, peace with one's neighbour, and peace with one's self. He looked on all people and things as his brothers and sisters because they were all created by the same God.
Francis took twelve young men to Rome with him, and the Pope gave him permission to start a new religious order, the Franciscans. He also helped St. Clare to start the order known as the Poor Clares.
Francis had a vision in which he saw Jesus hanging on the Cross. The marks of the five wounds of Jesus were left in his hands, his side, and his feet, which remained with him all his life.
When Francis became very ill, he prayed, "O Lord, I thank You for the pains which I suffer." He died October 4 1226.
Year 1 - Saint Therese of Lisieux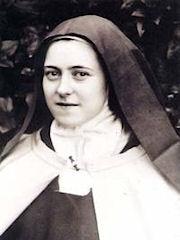 St. Theresa, who was often called the Little Flower, was born in Normandy in France. She had four older sisters and her parents were Louis and Zelie Martin. Theresa was a very lively, lovable little girl and her father called her his 'little queen'.
Yet she could also be too sensitive and irritable. In the story she wrote of her life, she tells how the Infant Jesus helped her overcome this weakness.
Theresa wanted very much to enter the Carmelite convent where two of her sisters were already nuns. But since she was only fifteen, they did not let her.
Theresa felt sure that Jesus wanted her to spend her life loving him alone. She kept praying and asking the superior to let her join the convent. She even dared to ask Pope Leo XIII himself to grant her heart's desire and finally she was allowed to enter.
Although she was only fifteen, Theresa did not expect to be treated like a child. 'Obedience, prayer and sacrifice' were her duty. She had a thirst to suffer for love of God.
Theresa had the spiritual courage of a real heroine. "May Jesus make me a martyr of the heart or of the body-or better, both!" she wrote. And she meant it.
In winter she suffered from the bitter cold and dampness of her plain bedroom. There were other kinds of sufferings, too. Whenever she was made fun of or insulted, she would offer her pain to her beloved Jesus. She would hide her hurts under a smile. She told Jesus to do with her whatever was his will.
Sister Theresa tried hard to be humble. She called her great belief in God her 'little way' to holiness. She always had a burning desire to become a saint.
The young nun wanted to find a 'short cut' to take her quickly to heaven. So she looked in the Bible, and found the words, "Whoever is a little one, come to me." When she lay dying, she could say: "I have never given the good God anything but love, and it is with love that he will repay. After my death, I will let fall a shower of roses. I will spend my heaven doing good on earth." The Little Flower died on September 30, 1897.
"O Jesus, my love, my vocation, at last I have found it. My vocation is love!"
Year 2 - Saint Mother Teresa of Calcutta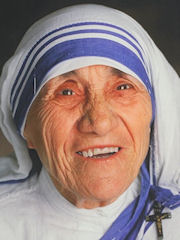 Mother Teresa was the founder of the Order of the Missionaries of Charity, a Roman Catholic congregation of women dedicated to helping the poor. Considered one of the greatest humanitarians of the 20th century, she was canonized as Saint Teresa of Calcutta in 2016.
Born in 1910, in Skopje, Macedonia, Mother Teresa taught in India for 17 years before in 1946 she experienced her "call within a call" to devote herself to caring for the sick and poor. Her order established a hospice; centres for the blind, aged, and disabled; and a leper colony.
In 1979 she received the Nobel Peace Prize for her humanitarian work. She died in September 1997 and was beatified in October 2003. In December 2015, Pope Francis recognized a second miracle attributed to Mother Teresa, clearing the way for her to be canonized as Saint Teresa of Calcutta on 4 September 2016.
Year 3 - Saint Joseph the Worker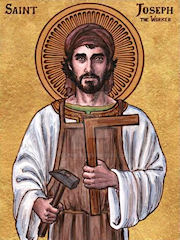 St. Joseph was the husband of Mary, the mother of Jesus. According to the earliest Christian traditions, he was a carpenter or woodworker. The Gospel of Matthew calls him a 'righteous man' meaning he was an observant Jew who obeyed God's law.
Joseph was engaged to Mary, but when he discovered that she was pregnant with Jesus, he decided to call off the marriage - but 'quietly' since the penalty for adultery was death by stoning. However, the angel of the Lord told him in a dream that he should go ahead with the marriage because Mary's child was conceived by the Holy Spirit.
This was the first of four divinely inspired dreams that are recorded in the Gospel of Matthew; for this reason, he is sometimes called 'the dreamer'. After each of these dreams, he did as the angel of the Lord had commanded him (Matthew 1:24).
The Gospel of Luke tells us that when Jesus was twelve, Joseph took him and Mary to Jerusalem to visit the Temple. They became separated, and Mary and Joseph spent three days looking for him. When they found him, Mary said to Jesus: Son, why have you done this to us? Your father and I have been looking for you with great anxiety. In reply, Jesus said: Why were you looking for me? Did you not know that I must be in my Father's house? (Luke 2:48-49)
Feast day 19 March and 1 May.
Year 4 - Saint Vincent de Paul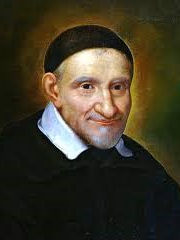 St. Vincent de Paul was born to a poor peasant family in the French village of Pouy on April 24, 1581.
His first formal education was provided by the Franciscans. He did so well, he was hired to tutor the children of a nearby wealthy family. He used the money he earned teaching to continue his formal studies at the University of Toulouse where he studied theology.
He was ordained in 1600 and remained in Toulouse for a time. In 1605, while on a ship traveling from Marseilles to Narbone, he was captured, brought to Tunis and sold as a slave. Two years later he and his master managed to escape and both returned to France.
St. Vincent went to Avignon and later to Rome to continue his studies. While there he became a chaplain to the Count of Goigny and was placed in charge of distributing money to the deserving poor. He became pastor of a small parish in Clichy for a short period of time, while also serving as a tutor and spiritual director.
From that point forward he spent his life preaching missions to and providing relief to the poor. He even established hospitals for them. This work became his passion. He later extended his concern and ministry to convicts. The need to evangelize and assist these souls was so great and the demands beyond his own ability to meet that he founded the Ladies of Charity, a lay institute of woman, to help, as well as a religious institute of priests - the Congregation of Priests of the Mission, commonly referred to now as the Vincentians.
The Vincentians remain with us today with nearly 4,000 members in 86 countries. In addition to his order of Vincentian priests, St. Vincent cofounded the Daughters of Charity along with St. Louise de Marillac. There are more than 18,000 Daughters today serving the needs of the poor in 94 countries. He was eighty years old when he died in Paris on September 27, 1660. St. Vincent is sometimes referred to as 'The Apostle of Charity' and 'The Father of the Poor'.
His incorrupt heart can be found in the Convent of the Sisters of Charity and his bones have been embedded in a wax effigy of the Saint located at the Church of the Lazarist Mission. Both sites are located in Paris, France.
The feast day for St. Vincent, the patron of all charitable societies, is 27 September.
Year 5 - Saint Maximillian Kolbe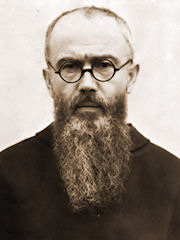 Raymond Kolbe was born in Poland. When he was just a teenager, he joined the Franciscan order and took the name Maximilian. Maximilian loved his work and enjoyed studying to become a priest, and he especially loved the Blessed Mother.
Before he became a priest, he started the Militia of Mary Immaculate or the Immaculata Movement devoted to Our Lady.
Then when he took his vows to become a priest he added 'Mary' to his name. Father Maximilian Mary knew that the world which was so full of sin, needed their Heavenly Mother to guide and protect them.
He started a magazine called 'The Knight of the Immaculata' so that more people would know about Mother Mary. He and his Franciscan priests published two monthly newsletters that were sent to people around the world.
The Mother of God blessed Father Maximilian's work. He built a large centre in Poland. This centre was called 'City of the Immaculate'.
In about fifteen years, a large community of eight hundred Franciscans lived there and worked hard to make the love of Mary known. Father Kolbe also started another City of the Immaculate in Nagasaki, Japan and yet another one in India.
In 1938, the Nazis invaded the Polish City of the Immaculate. They stopped the wonderful work going on there. In 1941, the Nazis arrested Father Kolbe. They sentenced him to hard manual labour at Auschwitz.
Three months after he arrived at Auschwitz a prisoner managed to escape. The Nazis became very angry and decided to punish the rest of the prisoners.
They decided to choose ten prisoners and put them in a bunker without food or water so that they would starve to death. All the prisoners stood straight, while ten men were pulled out of line.
One prisoner they chose was a married man with a family. He begged and pleaded to be spared for the sake of his children. Father Kolbe, who was listening, felt deeply moved and decided to help that suffering prisoner. He stepped forward and asked the commander if he could take the man's place. The commander agreed.
Father Kolbe and the other prisoners were sent into the bunker and they remained alive without food or water for many days. One by one, as they died, Father Kolbe helped and comforted them. He was the last to die on August 14, 1941.
Year 6 - The Holy Family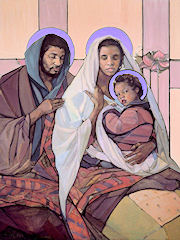 The Holy Family is made up of Jesus, Mary, his mother, and Joseph. They together are a model of love, protection and guidance. They are the ultimate model for all families to live up to and to try to emulate, no matter what size of family we all have.
Jesus understood that everyone needs other people to help them. We need our families, friends and neighbours. These important people can help us and we can help them too. Doing this we can create a loving community where everyone can live life to the full.