Remote Learning
Any queries or questions about any aspect of the schools online learning should be directed to the teacher responsible. Mrs Logue can be contacted via telephone through the school office or by email.
Google Classroom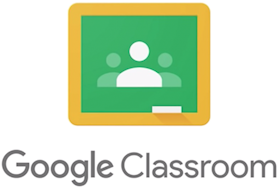 As a school, we have chosen to use Google Classroom as our online Learning platform to submit homework. We hope you find the information below useful in helping you to understand, use and access Google Classroom, our online learning platform for all year groups.
Google Classroom is a web-based learning environment. When logged into Google Classroom, students can collaborate with their peers and teachers. Google Classroom offers a digital safe space for students to view class tasks, access learning materials, view posted assignments, and turn in completed work.
Step-by-step parent instructions on how to log on to Google Classroom and Submit homework can be found in the videos below. Please also see the Parent Guide for logging on and other useful links lower down on this page.
Login details will be sent to you via the School Office. We would suggest that after accessing your child's classroom, you and your child familiarise yourself with the platform together. This is where teachers will set work and send messages within the Class Stream and Classwork pages. There will be a range of 'assignments' posted and some of the tasks can be uploaded/completed online for the teacher to view.
Please regularly discuss online safety with your children. Our Online Safety page has lots of advice and useful downloads.

How to log into Google Classroom

How to submit homework
Also see:
Spring 2021